Australian Labradoodle Puppy Availability!
We are located in central Indiana between Indianapolis and Chicago. Our location is a short drive from Michigan, Ohio, Kentucky, and Illinois.
Mini Availability – approx. 25 pounds
Sheraton is from Mirage and Nash's litter. She is a calm puppy with low energy. She likes to cuddle and snuggle more than anything. Sheraton does well in her crate time. She has a beautiful fleece coat with white markings. Sheraton will be about 25 pounds full grown.
Meet Marriott! She is semi active, plays well with others. She snuggles nicely after she

has had some play time or a nice walk. Marriott is a sweet girl.  She would be a good companion puppy. She is not scared of sounds and will work for food so she will train well with treats. As with any puppy, she will need to go on daily walk and have play time outside. She is therapy qualified.

Medium Availability – about 35 lbs
Dutch is from Silvermist and Angus. She is looking for a calmer home as she would rather sit and snuggle than to go on long walks. She is playful when it is time to play or with other dogs.
Dutch is a kisser. She is not a high energy puppy. She would do well in a home with older people or calmer kids.
Morgan loves to go on walks. She takes her nap in a crate where she settles down very
nicely. Morgan plays well with toys, other dogs, and is a snuggle. Morgan is semi-active, an average energy for a puppy. This means she will need to go on regular walks, although not an excessive amount of energy.
Morgan has a delightful temperament. She would do well with a semi active home. She does have a companion level temperament.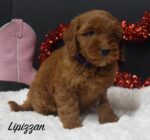 Lippi is a Silvermist and August puppy. She is a confident puppy. She is not afraid of things, she loves to walk around with a toy in her mouth. Lippi is a curious puppy, she likes to check things out … our little investigator. Lippi is hilarious, just watching her walk around is a delight.
If you are looking for a puppy to go on long walks and hikes who has the stamina to keep up then Lippi may be the one. She is very social with people of all ages. She is not sensitive to sounds if you take her to loud places. She doesn't mind playing with toys in the same room you are, she does not need to be entertained or sitting on your lap.
Standard Availability – 50 pounds
Clyde is a goofball! He is a little shy until he gets to know you and then he opens up. He
will then become your best buddy! Clyde is an Angus clone, he looks like him and acts like him. Clyde is a medium active level for a puppy, he would rather not go on really long walks, he likes to just hang out. Of course he is a puppy so he plays and romps around as puppies do. As he gets older he will be happy doing whatever you are doing as long as he is with you.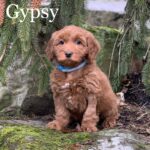 Gypsy is a Silvermist and Angus puppy. He walks nicely on a leash. He is semi-active which is a typical Australian Labradoodle puppy energy level. Gypsy likes to be with people and is very social. He is a companion level puppy meaning he does better with his family than off on his own. He is a nice well rounded pup. He likes to snuggle, go on walks, and just play with toys.
* Like us on Facebook or follow us on Twitter *
Waukegan and Brantley
Puppies go home March 6th at 2 p.m.
Accepting Applications – Medium (25-35 pounds)
Apricot, Black, and Red wavy fleece
Boys
Girls
Visit us on Facebook  for more photos.

Nellie Belle and Brantley
are expecting 
March 19, 2020!
Expecting beautiful shades of chocolate from 25 – 35 pounds. Go home around May 15, 2020
We work with a trainer offering companion, therapy and service dog training. Check out our training page.
 For more information on our pricing, health guarantee, and application please Click Here.
* Like us on 

Facebook

 or follow us on 

Twitter

 *
Ashford Manor Labradoodles is the proud breeder of the Australian Labradoodle in Indiana!
Australian Labradoodle puppies are non-shedding, allergy friendly, intuitive human companion. These dogs are extremely intelligent and easily trained.  Because of their  keen intelligence they are very eager and easy to train even when they are puppies.  They are affectionate & sociable dogs who, rarely bark.
Why Purchase an Ashford Manor Australian Labradoodle? Don't take it from us,listen to what others are saying.
Indy has been absolutely great. He's a nibbler but is extremely smart. He's been using his bells and hasn't had an accident since the first day home! He's so brave, he isn't afraid of anything! He's encountered lawn mowers, sprinklers, big and small dogs, about 40 or so people, and has done it all with a wagging tail. He has puppy play time with a 12 week old shi tzu and a 10 week old lab and has been hanging out with our neighbors 7 year old lab as well. He is very independent and loves to play on his own and with us and is up for his daily walks. Let me tell you, he still loves playing in the thick brush (we took him to notre dame and he ran up and down the bushes and gardens). Zach
She is such a sweet dog, very intelligent and alert. Kids absolutely adore her – thank you for such a wonderful puppy.  Dorota
Bernie is doing great. He is just a doll and the grand kids love him. Sue
A recent picture of Roscoe with his favorite frisbee. He's doing great!! Michael
Lady is doing great and we adore her! Lauren
We are still going to obedience class once as week– we love these times, as it really showcases how smart she is (She is always the smartest one in the class as she is such a quick learner!)  Izzy is pretty much completely potty trained- she regularly rings the bells– though she has figured out that ringing the bells get her attention, so she does that for fun sometimes too.  Beth
He is a great little puppy. He is totally crate trained, and has very rarely had an accident inside.  He slept the first night and every night from 11pm-6AM (better then any of my 4 kids)!!!  People with dogs say that we are very lucky and have a great dog!  Colm
Just wanted to tell you (once again) what a fantastic dog you sent me. She is amazing, wonderful, adorable, (pick your own adjective!).  I've been taking her outside and letting her walk around a bit, so she'll get used to the New York hustle-and-bustle. And nothing bothers her, not the noise, not the car horns, police sirens, fire engines, motorcycles … she's encountered them all and shows no adverse reaction to anything. She just LOVES being outside, she tries to greet ALL the people she encounters on the street and wants to play with all the dogs too. You should hear all the comments I get from people … EVERYONE (and I mean EVERYONE) stops me, asks what breed she is, and tells me how cute and beautiful she is. And because she's so friendly and fearless she charms all she meets.  She has met many people of all different shapes, sizes, races and ages. She even stopped to greet a lady in a wheelchair! Don
Ollie did great.  He is able to settle on his own and sit most of the time.  He is very calm.   Thank you! Leigh
Daisy had a great night. She cried for 10 minutes and then slept in her crate until 6:30!! Daisy is doing very well with the housebreaking. Sue
Syndey (Mello) is doing wonderfully!  She is very happy!