Scarlet & Copper puppies 4 weeks old
These are Scarlet and Copper puppies that are now 4 weeks old! They are so sweet and itty bitty! They are walking around, starting to use a potty area, and are more playful.
Meet Peanut, Petunia, Precious, and Puddles!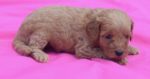 These are micro Australian Labradoodles in apricot and red colors!
Cheryl Sabens
Ashford Manor Labradoodles
Australian Labradoodle Breeder
765-714-1436
---